We are proud to boast of the good reasons why you can confidently choose us. We can assure you that our other clients have been satisfied with how we served them. Read More »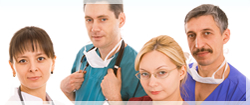 Our Location
11752 Garden Grove Blvd. #121
Garden Grove, CA 92843
Telephone :
(714) 530-7946
Fax :
(714) 530-7947
Email Address :
donnington@att.net
Office Hours
Monday - Friday :
8:30 am - 4:30 pm
On call 24 hours / 7 days a week.
Training
All of our staff come to us with at least a year of experience. Many of them are CNAs or HHAs or even nurses in another country. This is always valuable to our staffing needs. However, we still have to filter recruits through our training and orientation process to ensure that they meet our high standards.
We also improve their expertise through continued education and practical events that will help them grow as a person and as a health care service provider. They are also evaluated regularly to see how and where they can be improved more.
We are proud of our staff. Learn more about them!